38th Congress of the German Society for Romance Studies
University of Leipzig | September 24–27, 2023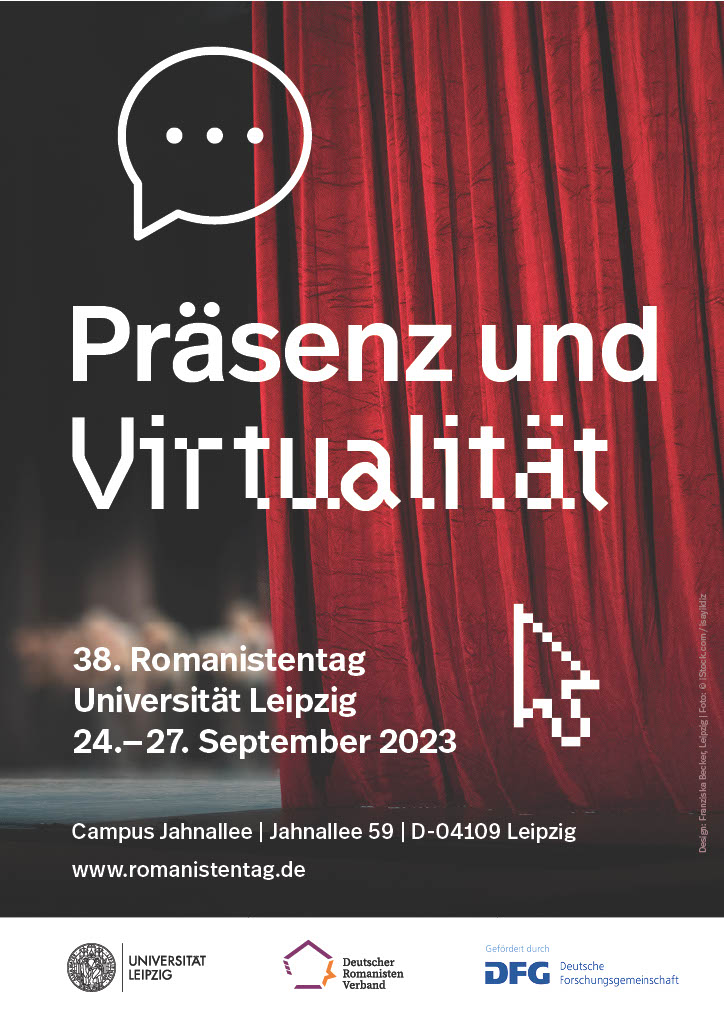 The congress is organized by the Institute of Romance Studies of the University of Leipzig, with the support of the German Society for Romance Studies (Deutscher Romanistenverband – DRV).
The Alma Mater Lipsiensis was founded in 1409, being thus the second eldest German university with uninterrupted teaching and research. Information about the history of Romance Studies in Leipzig can be found here.
The opening ceremony, plenary talks and workshop presentations will take place at Campus Jahnallee, in the buildings of the faculties of Sport Science and Pedagogy.
Campus Jahnallee (map of the site)
Jahnallee 59
04109 Leipzig


How to get from Leipzig Main Station to the Campus (tram stop Sportforum Süd):
Tram 3 (direction Knautkleeberg), Tram 7 (direction Böhlitz-Ehrenberg), or Tram 15 (direction Militz).
The trains depart directly in front of the Main Station.
How to get from Leipzig Airport to Leipzig Main Station (basement level):
S-Bahn (urbain train), line S5X or S5 (direction Altenburg)
We recommend you to download the app LeipzigMOVE, which will help you find your way around Leipzig. You can also buy your tickets directly via the app.
Without the app, the website Leipziger Verkehrsbetriebe will help you plan your mobility in the city.